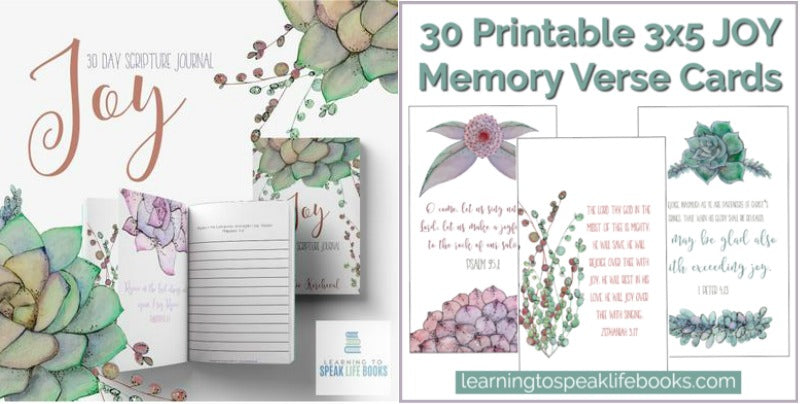 JOY 30-Day Scripture Journal + Memory Verse Card Bundle
Regular price $47.00 Sale
Are you looking to keep God's JOY at the center of your heart and mind? If so, this is the perfect bundle for you. In our Joy Journal + Memory Verse Card Bundle you will have the tools you need to use God's Word to refuse and deny the lies of the enemy that try to rob you of your joy every day.
Here is what you will receive in this digital bundle:
Joy: A 30-Day Scripture Journal
ISBN: 978-1-947435-03-2
Could you use more of God's promise of joy in your life? What better way to access his unspeakable joy than through His Word?
Our Joy 30-Day Scripture Journal takes 30 KJV Bible verses about joy and transforms them into 30 beautiful pieces of art. Along with the beautiful, frameable art for each of the 30 days, you will also find journaling space to write down what God is showing you about joy in each Scripture.
This is the perfect journal for those wanting to experience more of God's joy in their life and building your faith in Him.
---
THIS IS A DIGITAL PRODUCT: You will receive immediate access to your download file upon completed payment.
---
You can print it out on your home computer printer or at your local office store. Here are some photos of the journal we printed out at home.
THE JOY: A 30-DAY SCRIPTURE JOURNAL INCLUDES:
30 KJV Bible verses about joy
30 beautiful 8x10 Scripture art printables of each journaling verse
30 printable journaling pages
Be sure to check out the current collection of our 30-Day Scripture Journals™ HERE. We will be adding several more so be sure to check back often!
JOY Printable 3x5 Scripture Cards (30 Verses)
Memorizing Scripture is something that we strive to do on a daily basis. We love how hiding God's Word in our heart gives us increased faith and the wisdom to carry out God's will for our lives. If you are looking to memorize more of God's Word, these 3x5 printable cards a great tool to help!
---
THIS IS A DIGITAL PRODUCT: You will receive immediate access to your download file upon completed payment.
---
Joy Printable 3x5 Scripture cards you will receive:
30 beautiful color 3x5 printable cards (digital PDF)
each of the 30 cards has a memory verse about joy
Tips:
You can print out and laminate these cards and then hole punch the top left-hand corner and use a clasp to keep them together. This makes for easy transport in a purse or bag. 
Save