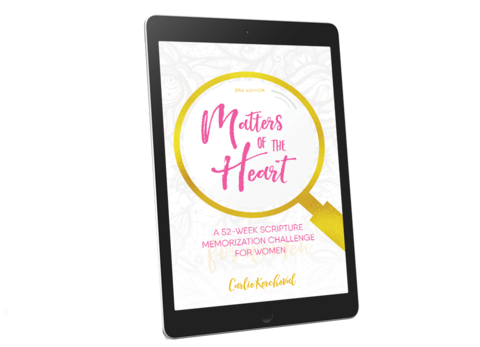 Matters of the Heart: A 52-Week Scripture Memorization Challenge for Women (eBook)
Regular price $13.99 Sale
Matters of the Heart: a 52-Week Scripture Memorization Challenge for Women (eBook)
ISBN: 978-1-947435-07-0
---
THIS IS A DIGITAL PRODUCT:

 
You will receive immediate access to your download file upon completed payment.
You can purchase the
paperback copy here
.
---
Do you desire a closer relationship with God, but lack extra time?
As a homeschooling, work-at-home mom, I understand your frustration. 
For years I've wanted nothing more than to know Jesus better, but my busy schedule often took up all my time. 
Guilt overwhelmed me.
I felt defeated on every side.
My relationships were suffering.
And finally, I decided enough was enough. I was going to find a way to spend more time with Jesus, no matter what. 
Then in 2012, on a cold winter day in our house in Germany, Matters of the Heart was born. 
God showed me that if I have just 5 minutes a day to focus on His Word, I could memorize a verse a week. And He wasn't wrong!
This challenge had an amazing effect on my relationship with Jesus. 
I felt like a new person. 
I began to thrive in my purpose.
My relationships with my husband and children began to blossom.
I had more energy to do what mattered most to me.
Ladies, I want you to know that Matters of the Heart was created out of pure love...and I'm so overjoyed to share it with you. 
Don't wait. Join thousands of other women who have committed to this challenge and literally changed their lives.
You deserve to have a closer relationship with your Creator, and Matters of the Heart can help!
Buy Matters of the Heart today.
This year-long challenge consists of:
Themed weekly memory verse to hide in your heart and apply to your life.
3 weekly challenges to put your faith into action and minister to those around you.
A weekly devotional based on the memory verse coupled with real-life lessons and encouragement.
An in-book journal page after each weekly chapter to jot down your thoughts and goals.