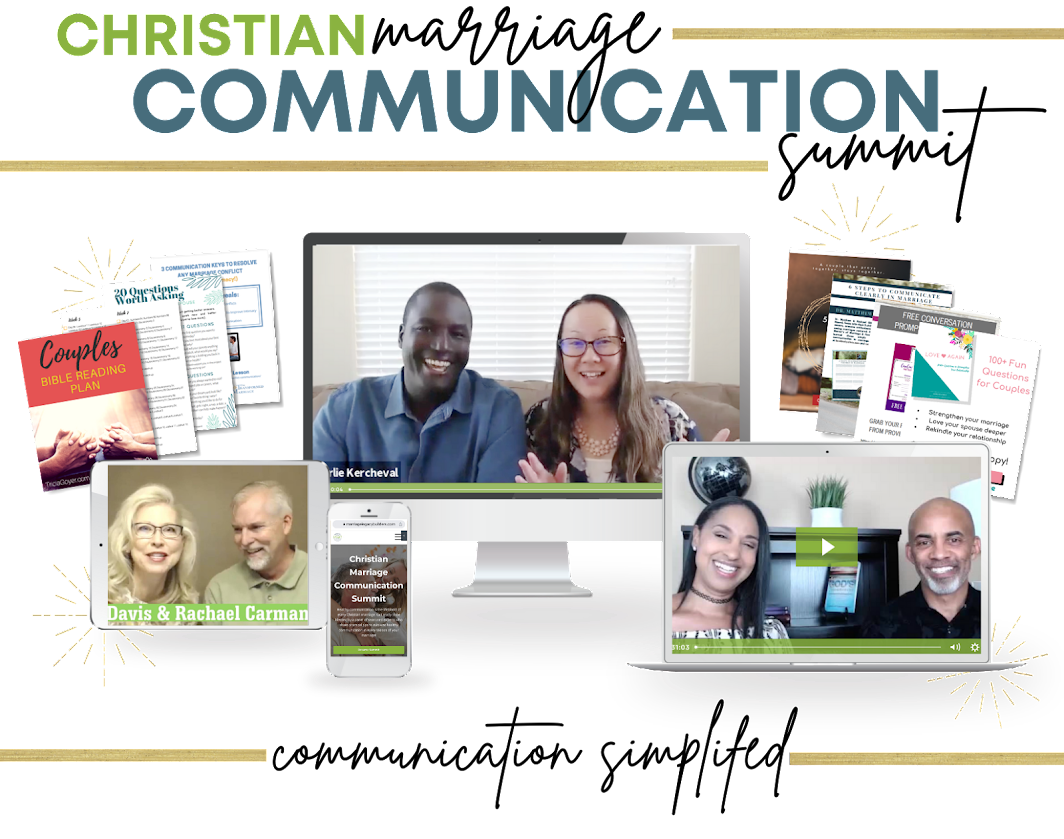 Christian Marriage Communication Summit
Regular price $147.00 $97.00 Sale
Are you tired of arguing with your spouse about the same things...over and over? 🙄
You are not alone. God wants better for you, your marriage, and your legacy! The Christian Marriage Communication Summit will help you connect with your spouse and ditch all the drama!
What you will receive:
Instant, unlimited access to 18 video interviews with REAL marriage experts who are also married couples. These interviews get straight to the point and give you so many practical takeaways to improve your marriage communication RIGHT NOW.

Speakers + Workshops Included:
Two Parents, One Purpose (with Davis & Rachael Carman)

How to Communicate Through a Season of Suffering (with Pastor Pat & Ruth Schwenk)

How to Gear up for the Empty Nest (with Jim & Ruthie Gray)

Five Ways to Avoid An Argument (with Derek & Cheryl Carter)

Overcoming a Pain-Filled Past (with John & Tricia Goyer)


How Healthy Communication Will Carry You Through the Storms of Life (with Sarah Ann Goode)

Conversations to Affair-Proof Your Marriage (with Jack & Jessica Allen)

Trusting God with the Impossible in Your Marriage (with Ryan & Ana Willis)

Fighting Fair Guidelines (with André & Timberley Gray)


How to Communicate Well When Married to an Unbeliever (with Travis & Micah Klug) 

How a Timid Wife + Overbearing Husband Learned to Communicate God's Way (with Dr. Matt & Rachael Gilbert)


Conflict That Cultivates Intimacy (with Paul & Nannette Klein)

How to Get (and Stay) On the Same Page With Your Spouse (with Kevin & Christy Comstock)

Why You Should Be Vulnerable in Marriage + What It's Costing You Not To (with Pastor Chip & Hallee Anthony)


How to Stay Connected in the Midst of Interruptions + Stress (with Stacy & Melissa Langford)

From Unequally Yoked to Thriving Christian Marriage (with Scott & Heather Bowen)

Marriage Restoration: Praying For a Miracle (with Vance & Cindy Henson)

How to Use Communication to Create a Nourishing, Christ-Focused Marriage (with Aaron & Barb Hudson)


It gets even better! When you purchase access to
the Christian Marriage Communication Summit,
you'll also get

exclusive access

to these
AMAZING

bonuses 
valued at over $100!
18 Bonus MP3's so you can listen on-the-go

5 Prayers to a Stronger Marriage eBook

52 Week Couples Bible Reading Plan (Printable)

5 Secret Strategies to Keep Your Marriage Thriving

20 Questions Worth Asking Worksheet

Guidelines for Positive Communication Printable Workbook

100+ Fun Questions for Couples (Printable Cards)

3 Communication Keys to Resolve Any Marriage Conflict (Video Workshop)

6 Steps to Communicate Clearly in Marriage

Conversation Prompts for Marriage

Communication Tips for Couples eBook
Total value: $497
Regular price: $147


SALE PRICE: $97



(that's a savings of 80% off!)
PLEASE NOTE: You are purchasing a digital product. Nothing will be mailed to you.