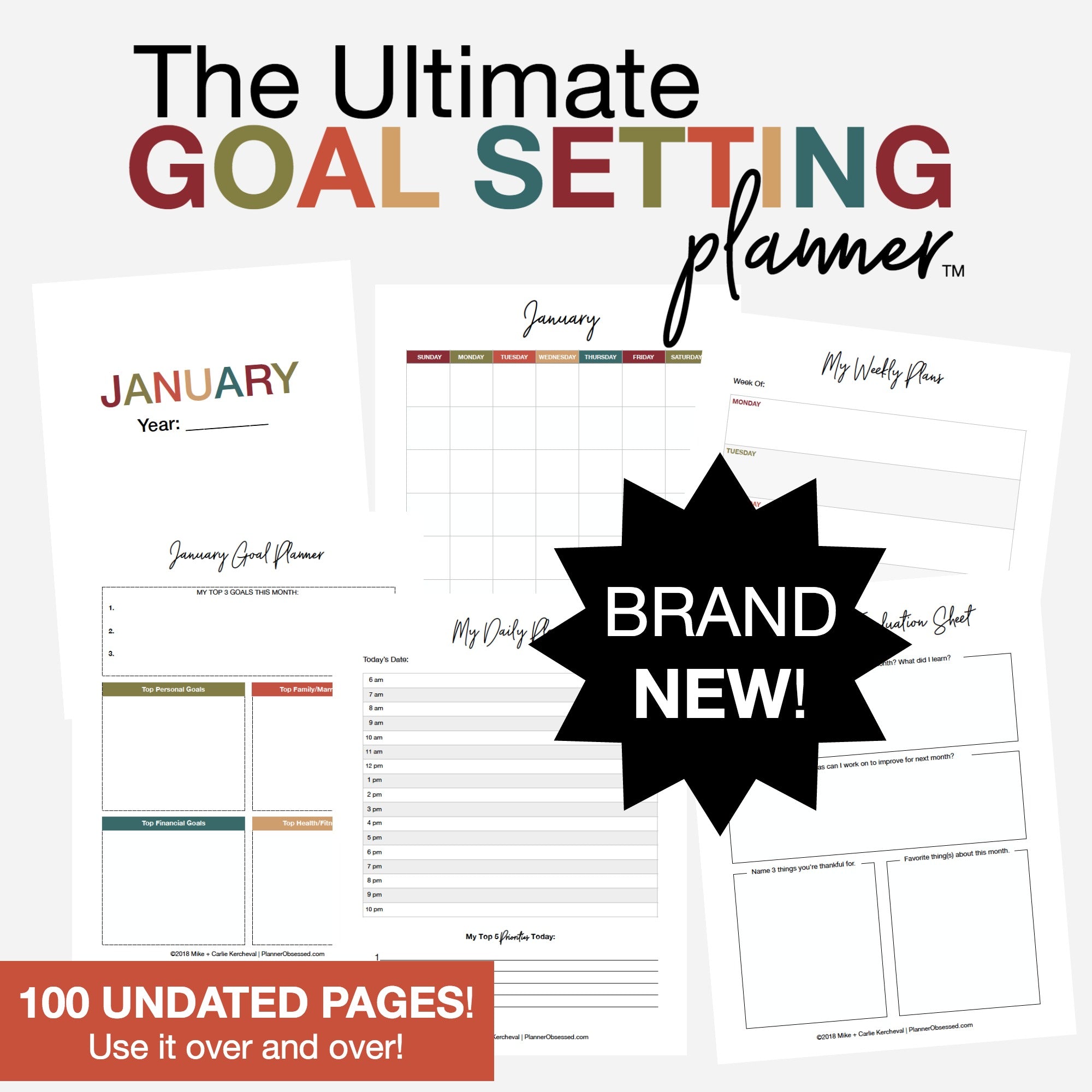 The Ultimate Goal Setting Planner™ Printable PDF
Regular price $67.00 $37.00 Sale
The Ultimate Goal Setting Planner™
ISBN: 978-1-947435-10-0
We are excited to present to you our popular planner, The Ultimate Goal Setting Planner™. This undated, 100+ page planner is designed to help you keep your goals at the forefront of your daily, weekly, and monthly planning!
This planner is undated so you can use it over and over without the need to buy another one every year. We are very frugal and love to save money so we wanted to pass along some savings to you, too.
---
THIS IS A DIGITAL PRODUCT: 
You will receive immediate access to your PDF download file upon completed payment.
---
What you can expect inside your planner:
MONTHLY GOAL SHEETS:
Fill out the goal sheet at the beginning of each month. This will give you a place to put your goals on paper and keep them at the forefront of your mind. You have space to fill out your top 3 goals for the month, goals for yourself, your family, your finances, and your health.
MONTHLY OVERVIEW SHEETS (1-page and 2-page):
Write down important events on your monthly overview sheets. There is a single page monthly overview and a 2-page monthly overview. You can use one or both, it's totally up to you. The 2-page monthly overview has a spot for: notes, birthdays/anniversaries, and your top 5 goals for the month.
WEEKLY PLANNING SHEETS:
This is where you write down an overview of what you have going on each week. It gives you the ability to take a look at the week and write down the most important things each day.
DAILY PLANNING SHEETS:
Here is where the magic happens. You have space to plan your day by hour (from 6am to 10pm). This is where you write down your daily schedule which is the detailed version of your weekly overview. Here you have the ability to write down the 5 most important things you need to prioritize each day to help you stay on task.
MONTHLY GOAL EVALUATION SHEET:
This is where you get real and take a look at the progress you made toward accomplishing your goals. You will be able to reflect on what went well and what needs to be improved. It also gives you the opportunity to share what you are thankful for and your favorite things about the month.
MONTHLY DIVIDER SHEET:
You will have a monthly divider sheet for each month of the year to place at the beginning of each month in your binder. These have a place for you to put the "year" so that you can reuse them over and over for years to come!
This planner is 100 pages of pure goal setting and planning bliss!